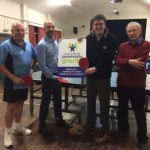 The club has recently acquired new tables, nets and surrounds following a successful bid to Braintree District Council for funding.  The funding came from the individual councillors' fund and each of the three councillors representing Black Notley, Graham Butland, the leader of the council, Tom Cunningham and Frankie Ricci, contributed £500.
Councillors Cunningham and Ricci came along to the club to make a formal presentation and to see the club in action, as well as trying out the facilities for themselves.
: (from left) Club chairman Steve Baines, Councillor Frankie Ricci, Councillor Tom Cunningham, club secretary Ron Fosker.