Whilst club funds remain healthy, we are always looking for ways to increase funds so that we can try to keep membership fees as low as possible.
One very successful way to do this is to raise funds by asking you all to use Easy Fundraising to support the club. To date, we have raised well over £600 for the club through this but we need to increase this – it is a way for us to raise money for the club at absolutely no cost whatsoever to our members.
The way Easy Fundraising works is very simple. You go to the Easy Fundraising website www.easyfundraising.org.uk/ then simply enter 'bnca' in the box to find us.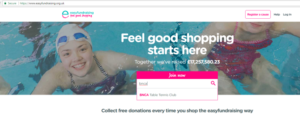 You will then need to click the 'Join Us' button and fill out your details so that you are registered to support BNCA Table Tennis Club.
Once you have registered, all you need to do is use Easy Fundraising any time that you want to purchase anything online. There is no additional cost to you, the club simply receive a small percentage of anything you spend when you go via Easy Fundraising.
When you wish to purchase anything at all online – your weekly shopping, books, electronics, computers, ink cartridges, holidays, hotel rooms etc. – simply go to the Easy Fundraising website and search for whatever retailer you want to buy from. They have all the big names there for you to shop with – Amazon, Tesco, Sainsbury's, etc., etc. Here are just a few examples: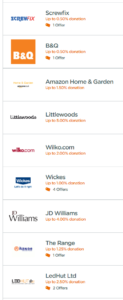 You probably get the idea by now – pretty much anyone and anything is available through the Easy Fundraising website and every time you use it your club benefits.
So far, with just a handful of the members supporting us, we have raised over £600 for the club using Easy Fundraising – just imagine how much we could raise if we had all our members supporting us this way…
So, PLEASE register with Easy Fundraising to support BNCA Table Tennis Club and help us raise free money for the club.
If we raise enough we can keep fees down, improve equipment etc. so it really is in all our interests to support the club this way.
We are not asking you to buy raffle tickets, come to a quiz night etc., simply to do what you would normally do anyway when buying anything online, but do it through Easy Fundraising!
We look forward to seeing our supporter numbers on Easyfundraising grow considerably in the next few days as you all register to support the club – and remember, you can encourage friends and families to do this to support us too!
Many thanks,